Rough Trade - Project Details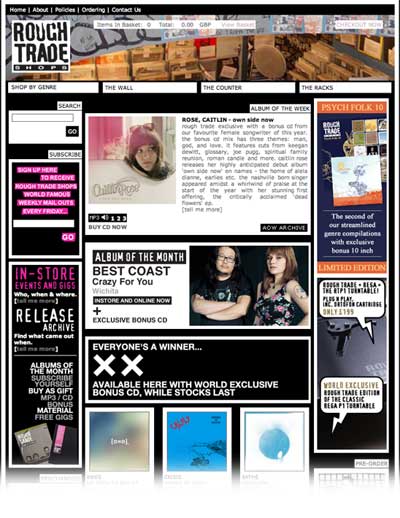 Rough Trade - UK's largest independent music retailer
4:30am provides an integrated solution
Rough Trade, based in London, opened their new flagship store in 2007. They needed a IT partner who could look at their existing business processes, eliminate inefficiencies and create new integrated systems that would allow them to operate online and in-store.

After spending time getting to understand the business, 4:30am designed a system that centralised stock control and product management for all of Rough Trade's trading activties. We worked with their chosen EPOS till supplier to link all the tills with the new stock system and to feed sales data into a sales reporting system. Product data, prices and barcode information is pushed out to the tills and web-based label-printing and stock take mechanisms allow these functions to be carried out from any of the computers in the building.


We used our own e-commerce platform to create the public website. This was tailored to Rough Trades requirements to allow them to sell music in the way they wanted. Their website is hosted on one of our servers which is housed at a secure data-centre in the London Docklands.


Visit the Rough Trade Website: www.roughtrade.com










The Key to Good Customer Service
Dont forget the back-end!
Often overlooked, the key to being able to give online good customer service is to have the systems in place to support it. All too often we see, even larger companies with bigger budgets, putting most of their efforts into their public-facing eCommerce website without thinking about creating efficient back-end systems to handle the orders that the website takes. These are often added as an afterthought and, of course, as soon as the web site starts taking orders in significant numbers, it quickly gains a reputation for slow delivery of goods and poor service.

With Rough Trade, we started looking at the back-end processes first. We quickly determined that by making all the systems browser-based, it would give Rough Trade the maximum flexibility and control and would allow them to give excellent customer service.